Our Objectives
SERVING THE NHS & CARE SECTOR
GV Health is one of the companies identified by the UK national government as central to supporting the fight against COVID-19. We are working closely with the government and key agencies to ensure continuity of supply of key products vital to the NHS during the global pandemic.
SAFEGUARDING OUR STAFF
Our key objectives are to safeguard our staff in order that we can give the best possible service to the NHS, primary care and other frontline healthcare organisations and workers. The steps we have implemented are to ensure we can meet these objectives over the ongoing period of the COVID-19 outbreak. We are proud that every product that leaves our warehouses is helping to combat COVID-19 in a very important and direct way. We very much welcome new enquiries both from UK and abroad but these will be reviewed on a case by case basis during this period.
Our Measures
OPERATIONS AND LOGISTICS
Our warehousing and logistical sites are the cornerstone of our operations and ensuring their continued ability to function is at the heart of our strategy. Since the COVID-19 emergency started we have fully implemented our contingency plans and moved to a two shift operation. Working hours have been extended to include operating on holidays and weekends and staffing levels have been increased. Daily disinfection takes place throughout our sites to protect our staff and we have brought in social distancing measures for visiting delivery drivers to ensure deliveries are handled safely.
OFFICE
Our offices are closed until the end of lockdown and office based staff are now working remotely from home. Our cloud-first communications and systems have been strengthened to ensure that staff and managers working from home are fully supported and able to continue processing orders and communicating with customers, suppliers and our manufacturers both in the UK and overseas. Some disruption is inevitable and we ask customers as far as possible to use email to contact us.
COVID-19 Key Resources
DISINFECTANTS: SOCHLOR DST
SoChlor DST is designed to decontaminate large areas. SoChlor DST's dual-action clean – disinfect ensures fast and effective deep cleaning.
1,000ppm recommended for disinfection of COVID-19
Dual-action / Clean & Disinfect. No pre-clean required
NaDCC recommended by CDC, WHO & UK Department of Health for effective disinfection of Coronavirus
EN 14476 certified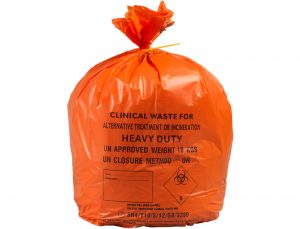 WASTE BAGS: ORANGE WASTE BAGS
Orange Bags – COVID-19 is classified under UN3291, Category B waste. As such the packaging specification comprises the following:
Soft waste such as PPE should be placed in UN3291 certified orange clinical waste sacks
These should be certified for bulk transport if they are not being transported in a clinical waste cart
Sacks must be sealed with a bag or cable tie or tape, marked so that they are traceable back to source and placed in a 360 or 770ltr UN3291 certified bin
Sacks containing infectious COVID-19 waste may be placed in the same clinical waste cart as other infectious orange bagged waste
APRONS: POLYCARE CE
Polycare CE certified disposable aprons are appropriate for all situations excluding close patient contact where appropriate PPE is required. Our range comes in Clear, White, Blue, Green, Red, Pink and Purple colours which can be useful to distinguish different teams.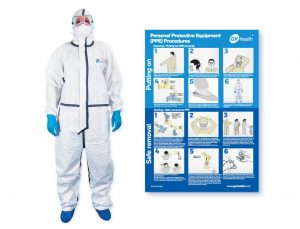 PPE: PPE PACKS (FOR HEALTHCARE ONLY)
We are not able to supply PPE in bulk. However, we supply PPE packs including clear instructions help aid correct donning and doffing by users with minimal training. These are for use by healthcare units only.
Global Response
Whilst the UK must be our priority while the current crisis is happening we remain committed to supporting our many customers around the world as much as we are able. The number of deliveries of products we are making each week to customers are the largest in the company's history.
THANK YOU
We thank you for your continued support during this unprecedented time.  We send our best wishes to all our clients, suppliers and their families, as well as the incredible people of the NHS. Stay safe and let's all work together to combat this virus.
Download our COVID-19 information sheets.