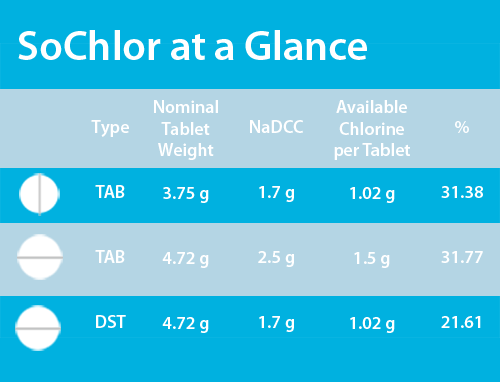 SoChlor is a fresh approach to chlorine based disinfection for use in hospitals and other healthcare environments such as care homes and surgeries. Supplied as water soluble tablets SoChlor delivers correct strength chlorine solutions both for specialist applications including spillage and terminal cleaning and for general environmental disinfection and cleaning applications.
Soluble chlorine tablets are not new within the NHS and community care sectors. Storing, transporting and delivering chlorine in solid form offers users significant benefits in terms of safety, product consistency, shelf life and reduced handling costs.
The SoChlor range comprises three products:
SoChlor Tablets: 2 different sizes of tablet used for infection control and prevention and general environmental disinfection
SoChlor DST: combines a chlorine disinfectant with an anionic surfactant, simplifying the traditional clean – rinse – disinfect processes into a single operation, saving time and money
The active ingredient in all types of SoChlor is Sodium dichloroisocyanurate, also called Troclosene Sodium and normally abbreviated to NaDCC. SoChlor is NHS Pharmacy approved and contains the correct ratio of NaDCC as stipulated by NICE and the DH.
SoChlor aims to deliver significant improvements in the user experience, while retaining the proven benefits of low-cost soluble chlorine. Research found that many of the issues reported by users of existing products stemmed the design of diluters. This simple, but often overlooked item is critical to delivering solutions of the correct level of dilution.
Inconsistent dilution levels and the strong chlorine smell which comes from using over-strength solutions featured strongly among user concerns. Issues such as these are particularly acute in busy, hard pressed cleaning departments or organisations where higher than average staff turnover and reliance on short term or temporary staff are common.
These issues are adressed with improved delivery tools including a unique diluter which enables accurate dilution to be achieved. Free on-site training and support* delivered by qualified infection control specialists and usage aids such as Crib Sheets address issues relating to user training.
SOCHLOR GRANULES
Using the same NaDCC active ingredient, SoChlor is also available in granule form.
SoChlor Granules are used primarily for absorbing body fluid spills, releasing chlorine based disinfectant upon contact to both neutralise and sanitise the spillages. Hygroscopic SoChlor granules absorb liquid spills to prevent spreading and to allow spillages to be scooped up easily and safely removed and disposed of.
Chlorine released on contact with the spill disinfects and cleans the spill area in a single activity.
* Free on-site training is provided for all SoChlor customers.