A career with GV Health means you will be joining a team of dynamic, well qualified and highly motivated professionals committed to providing the best levels of service and highest quality products to customers in hospitals, clinics, food processing and catering, schools, government and industry.
You will be joining a rapidly growing company in a strong market. Our team are target driven professionals who thrive on success. You will be expected to hit the ground running and contribute to achieving demanding goals for yourself and the company, whatever the role you assume.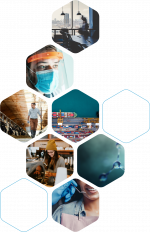 Training & Support
Full training and support is provided and we encourage continuing professional development for all our staff. The opportunities for future promotion and growth are limited only by your own imagination and abilities.
GV Health is an equal opportunities employer.
Click below to read our equal opportunities policy.
Location
Our UK offices and warehouse are located in Stevenage, Hertfordshire, about 20 miles North of London, and 10 minutes drive from junction 23 of the M25.