Our Mission
Protection is at the heart of our business.
Working alongside professionals committed to protecting human health and welfare, we see how vital it is that we also consider our impact on the planet and ensure we can provide cleaner, safer human environments now and in the future.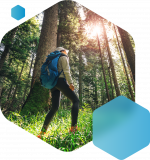 We believe a broad integrated approach to sustainability by combining our products, education services and digital systems is crucial to deliver meaningful and measurable change. 1
Products that are more sustainable.


Through technology, development
and design.
Reduce manufacturing and delivery carbon footprint
Reduce material resource consumption
Reduce impact on environment at product end life
15 years ago, heavy duty clinical bags were 80 microns. We've invested in improvements in manufacturing technology and made use of advances in testing, and as a result we've been able to retain durability while reducing this to less than 20 microns, lowering raw material use and shipping CO2.
View our sustainability report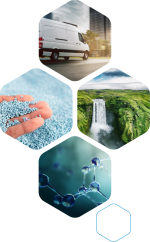 2
Support, education platforms and our software systems.

Continuing to evolve our services to help our customers be more sustainable.
Reduce waste and usage of material through training and education
Reduce waste and usage of material through our software systems
Reduced deliveries, remote support, improved recycling schemes and reduced waste to incineration
Since the beginning, we have been driving ways of reducing waste and cost, and preventing overuse of chemicals and materials. Our Clematis Cloud System evolved from a product created by us in 1993. It is now more relevant than ever and used in over 3,000 locations across the UK NHS.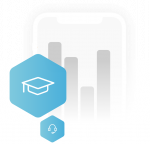 3
At home

we are making our organisation more sustainable when delivering our core mission.
Reduce our operational carbon footprint through technology including LEDs, heat pump systems and
improved working practices
Reduce carbon emissions with deliberate waste management practices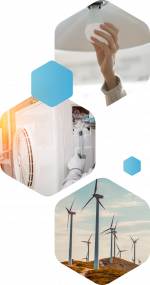 Leading the Change
GV Health produced and successfully tested the first recycled clinical waste bag.
It passed VCA accreditation and PIRA drop test and tear test requirements.
From then, we've gone on to achieve other firsts, including
space

Human health shouldn't come at a cost to the environment, but it also shouldn't mean compromise on quality.
Our commitment is to offer biodegradable products to our customers only where we can guarantee the integrity of our product and where their compostability or biodegradability offers an alternative disposal solution from long term landfill.
Where appropriate, we have fit for purpose biodegradable and recyclable polythene bags as well as products made from recycled material.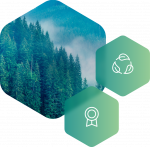 Sustainable Infection Control
The tablet formulation of SoChlor reduces the need for transportation of water, creating lighter, more compact packages which create less CO2 during delivery. Further positives come from using SoChlor solutions with a microfibre or reusable cloth, reducing the volume of disposable wipes and waste.
New Technologies We Use:


Oxo-Biodegradable Plastic Technology

Supporting the globally recognised ambition of 'Reduce, Reuse and Recycle', oxo-biodegradable plastic technology is used for our Biodegradable Aprons. At the end of the plastic's functional life cycle, it is broken down in the presence of oxygen. This converts into materials with a low molecular weight and which are no longer plastics, and are completely biodegradable.

Oxo-Biodegradable Plastic does not fragment into microplastics and will be recycled back into the environment through biodegradation by naturally-occurring bacteria and fungi.
Does not damage the ecosystem as no microplastics are produced, so not harmful to animals or mammals if ingested.
Safely degrades and biodegrades in a much shorter time in the open environment.
Can be recycled with ordinary plastic but also contains a tracer for added identification.
Works with virgin and recycled plastic, PE & PP.
No change to the manufacturing process.
Will biodegrade on land and water and does not leave harmful residues.
Costs no more than ordinary plastics.
Requires only 1% inclusion rate.
Can be used in all sectors and types of bags.
100% Compostable Products
Aprons, nappy bags, caddy liners and patient carrier bags are just some of the products available as compostable options. Compostable products break down readily in a composting system, through microbial activity, to form compost.
Made of natural plant starch (sugars, oils and other compounds in renewable feed stocks), and do not produce any toxic material. These can be converted into chemicals and polymers using conversion processes similar to those of traditional polythene.
Caddy liners
– fully compostable biodegradable kitchen caddy food waste bin liner bags
Tabards
– Red Polythene printed - Biodegradable