Infection Control, Teacher, Caretaker and Pupil Safety
Ensuring continuity of supply of key products is vital to fight against COVID-19. GV Health has been included in the group of companies the UK government has identified as central to supporting the frontline fight against COVID-19 and we are working closely with the government agencies and other bodies directing this effort.
As one of the key suppliers to the NHS for infection control and specialists within this field GV Health have created this resource page to support schools with links to key sources of advice and guidance about infection control products.
OUR RECOMMENDATIONS
DISTANCING
Maintaining social distancing may be challenging especially with early learning year pupils, however we would still recommend adhering to 2m distancing where possible to reduce the spread of infection.
Consider staggered start, lunch break and finish times for classes as well as grouping classes by year groups to use alternative entrances and exits, reduce groupings of classes to 15 maximum per class and prohibit each group of children from mixing with other groups to minimise large groupings of pupils together and reduce contact.
SURFACES
Restricted Eating Zones: We would encourage restricting pupils to eat lunch at desks only so the areas can be easily contained and cleaned with SoChlor DST for a deep clean.
Soft Toys: Remove all soft toys and furnishings and toys that are hard to clean from the classroom.
Spill Kits: Maintain proper use of Spill Kits whilst wearing PPE for the clean-up of blood and bodily fluid spillages to reduce risk of infection.
PPE
Deep Clean: Caretakers should use disposable cloths, mopheads, aprons, gloves and masks during each clean. Use a Department of Health recommended disinfectant to tackle COVID-19 such as SoChlor DST.
PERSONAL HYGIENE
Maintaining personal hygiene is key to contain the spread of infection. We recommend following the governments 20 second hand washing guidelines and using our 70% IPA wipes for hand sanitising and disposing of tissues after use.
COMMUNICATION
Clear communication through the use of appropriate signage and training for staff and pupils is important to ensure systems can be put into place swiftly and effectively and allow maximum compliance for teacher and pupil safety.
USEFUL LINKS
UK GOVERNMENT GUIDANCE FOR EDUCATION & CHILDCARE SETTINGS
Download our COVID-19 information sheets.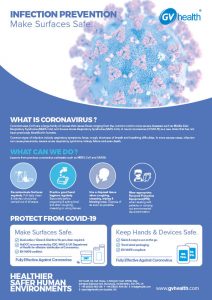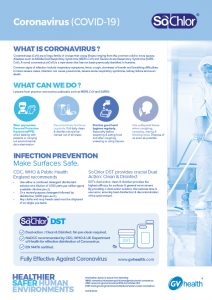 Infection Control: Keeping Surfaces Safe
Ensuring your staff and contractors are equipped with the correct infection control cleaning products is key in managing COVID-19. Cleaning of the environment, including toys and equipment, should be frequent, thorough and follow national guidance. For example, use colour-coded equipment, government recommended disinfectants, disposable cloths, mopheads and PPE such as disposable aprons, gloves and masks. We provide a range of products dedicated to support you in protecting the school environment.

DISINFECTANTS: SOCHLOR DST
Sochlor DST is one of only three DoH recommended cleaning agents. SoChlor DST can be used on all surfaces, providing crucial Dual Action "Clean & Disinfect" to decontaminate large areas. SoChlor DST's dual-action clean and disinfect provides the highest efficacy for surface and general environmental cleaning. By providing a dual-action solution cleaning time is reduced and user errors are minimised to ensure the best level of environmental disinfection and decontamination.
Dual-action "Clean & Disinfect": no pre-clean required
NaDCC recommended by CDC, WHO & UK Department of Health for effective disinfection of Coronavirus
EN 14476 certified
Fully effective against coronavirus COVID-19
SURFACE AND HAND SANITIZER WIPES:
GV Health alcohol wipes with 70% Isopropanol (IPA) for hand sanitizing and disinfection of surfaces, medical and other general devices. These individually wrapped multipurpose wipes are impregnated with 70% isopropyl alcohol (also known as IPA, isopropanol or Propan-2-ol) and 30% de-ionised Water. Designed for a variety of surfaces and equipment including desks, plastic toys, keyboards and computer screens, as well as for hand sanitizing.
Personal Protective Equipment (PPE)
Wearing appropriate Personal Protective Equipment (PPE) within the school environment and cleaning of facilities is paramount for successful infection control.
Disposable non-powdered vinyl or latex-free CE-marked gloves and disposable plastic aprons must be worn where there is a risk of splashing or contamination with blood/body fluids (for example, nappy or pad changing)
Goggles should also be available for use if there is a risk of splashing to the face
APRONS: POLYCARE CE (PPE) FOR CLEANING
Polycare CE certified disposable aprons are appropriate for all situations in the school environment and we advise caretakers and cleaners to wear aprons whilst cleaning the premises to reduce contact exposure. Aprons protect wearers from direct contact with solids and liquids routine cleaning tasks. Our range comes in Clear, White, Blue, Green, Red, Pink and Purple and are appropriate for use in all educational settings.
Available in a variety of lengths, material weights, colours and sizes
Unisex aprons adjust to fit all shapes and builds
Supplied on rolls or flat pack
SPILL KITS
Use Spill Kits for the cleaning of blood and body fluid spillages such as vomit and urine to contain spillages and reduce the risk of infection. All spillages of blood, faeces, saliva, vomit, nasal and eye discharges should be cleaned up immediately whilst wearing PPE. Never use mops or cloths for cleaning up blood and body fluid spillages.
Waste Stream Management
Managing waste needs extra attention and care during COVID-19 to ensure you meet local authority and/or waste contractor's regulations and guidelines for infectious waste. If you are already sorting waste into different waste streams for disposal make sure this is being followed by all applicable staff in all locations and implement additional staff training if necessary.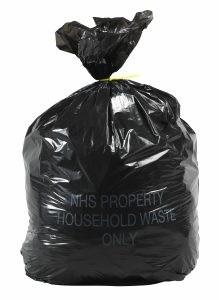 BLACK DOMESTIC WASTE BAGS
Standard domestic waste and disposable items for cleaning should be disposed of in foot pedal bins, using black bin bags through your usual waste stream.
Any suspected items that could have come into contact with COVID-19 such as PPE should be double bagged in black bags and isolated in a secure holding area for 72 hours before disposed of in the normal waste stream.
If in doubt: Check with your local authority to see what their guidelines are to support waste stream management for schools in your area.
CONTACT US
Our team are here to help you. Please Contact us for further guidance and support on infection control for COVID-19, product enquiries and stock availability.
Disclaimer: The information and links on this page are provided for guidance only. Always refer back to NHS guidelines which are updated on a regular basis before reaching decisions or taking action. The information and links on this page have been carefully checked and are believed to be accurate to the best of our knowledge. However, GV Health Ltd., its employees and contractors cannot be held liable for any inaccuracies whatsoever that may exist for whatever reason.