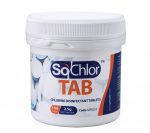 Product Overview
An essential in infection prevention and control (IPC) across sectors, SoChlor (Sodium dichloroisocyanurate, NaDCC) is a smart, sustainable precursor to hypochlorous acid – a chlorine-based, safe and powerful solution to disinfection. With a portfolio of ready-to-use tablets, SoChlor TAB tablets dissolve to formulate the correct concentration of disinfectant, every time* – simplifying disinfection processes and eliminating product waste.
SoChlor's biomimetic technology emulates the same response as certain white blood cells in the body, where a non-toxic, biodegradable compound hypochlorous acid is released on exposure to pathogens. Activated upon dissolving in water, NaDCC also releases hypochlorous acid – the safe, smart active in SoChlor. Holding a much higher level of available chlorine, hypochlorous acid is approximately 100x more effective than household bleach, meaning SoChlor's anti-microbial performance is efficacious against more resistant pathogens including mycobacteria, spore-forming bacteria and non-enveloped viruses. SoChlor is therefore suitable for high-level and outbreak disinfection, such as against SARS-CoV-2.
SoChlor TAB's stable, tablet formula and small composition makes for easy transportation. With higher quantities per delivery due to reduced packaging, they are a more sustainable option for infection control.
SoChlor TAB tablets are tested and certified against EN test standards: BS:EN1650; BS:EN13704; BS:EN1276 (EN13727); BS:EN14476 (Adenovirus); BS:EN14476 (Poliovirus); BS:EN14476 (Norovirus); BS:EN14348; BS:EN13624; BS:EN13727; BS:EN13697 and conform to UK Department of Health, HPA and WHO guidelines for isolation, terminal and general environmental cleaning and disinfection.
*when used according to directions.
Use biocides safely. Always read the label and product information before use.
Certifications
Certified to the following test standards: BS:EN 1650, BS:EN 13704, BS:EN 1276, BS:EN 13727, BS:EN 14476, BS:EN 14348, BS:EN 13624, BS:EN 13697
Active ingredient: Sodium dichloroisocyanurate (NaDCC)
SoChlor TAB 2.5g 100
Product code:
MFB255
Product Specifications:
Total Qty: Case of 6 tubs (100 tablets per tub)
Single product, multi-use solution
Highly effective anti-microbial
Smart and stable tablet form
Versatile, multi-industry application
Biodegradable, naturally occurring active
Certifications
Certified to the following test standards: BS:EN 1650, BS:EN 13704, BS:EN 1276, BS:EN 13727, BS:EN 14476, BS:EN 14348, BS:EN 13624, BS:EN 13697
Active ingredient: Sodium dichloroisocyanurate (NaDCC)