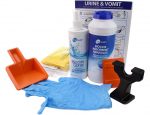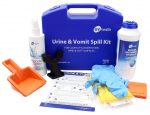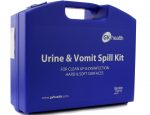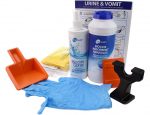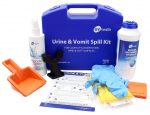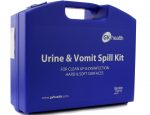 Product Overview
Sold as a refill to our urine and vomit spill kit, this pack contains everything required to contain and clear up to 6 spills. Curated with the necessary products, collect spills and disinfect contaminated surfaces that would otherwise be ineffectively cleared with paper towels, subsequently minimising the risk of spreading infection.
With clearly illustrated instructions, this pack is suitable for use by specialist and non-specialist staff. This kit is designed to be used as a refill for Urine & Vomit Spill Kit MJZ020.
Use biocides safely. Always read the label and product information before use.
Content
1 x 250g shaker of High Absorbency Granules

1 x 250ml Neutraliser Spray

6 x pairs of nitrile gloves

6 x packs of disinfectant surface wipes

6 x scoops and scrapers

6 x clinical waste bags

6 x aprons

1 x instruction poster
Certifications
IPA wipes certified to the following standards: BS:EN 1276, BS:EN 14476:2013 + A2:2019
Urine & Vomit Spill Kit – refill pack
Product code:
MJZ021
Product Specifications:
Total Qty: 1 refill pack
Refill pack for our Urine & Vomit spill kit
Effective for use against bodily fluids
Disinfectant to minimise spread of infection
Extensive educational product support
Certifications
IPA wipes certified to the following standards: BS:EN 1276, BS:EN 14476:2013 + A2:2019