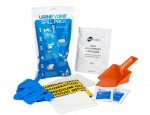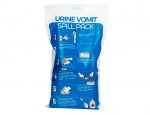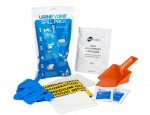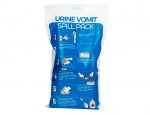 Product Overview
Clear and contain spillage with this single use Urine & Vomit Spill Kit. Inclusive of high absorbency granules to coagulate spills, this kit enables a quick collection of unwanted substances with minimal contact. Using the scoop, spills can be rapidly be collected and discarded into clinical waste bag provided within the kit. Ready-to-use disinfectant surface wipes are included for the quick disinfection of spills, subsequently reducing risk of infection.
The urine and vomit spill pack consists of all the necessary equipment to deal with a spill in a single bag, so everything needed is accessible in one location. Each pack is printed with an easy-to-follow instruction guide. Its clear illustrations and steps mean that this kit is suitable for use across all industries, including outside of healthcare. GV Health provide extensive product support, and with comprehensive videos on product usage, you can be sure that you are implementing correct procedure to contain spills.
Use biocides safely. Always read the label and product information before use.
Contents
1 x pair of nitrile gloves
1 x apron
1 x sachet of GV High Absorbency Granules
1 x scoop and scraper
2 x packs of disinfectant surface wipes
1 x Clinical waste bag
Illustrated instructions on pack
Certifications
IPA wipes certified to the following standards: BS:EN 1276, BS:EN 14476:2013 + A2:2019
Urine & Vomit Spill Pack
Product code:
MJZ004
Product Specifications:
Total Qty: 1 pack
Easy to store, portable and compact
Effective for use against bodily fluids
Disinfectant to minimise spread of infection
Extensive educational product support
Certifications
IPA wipes certified to the following standards: BS:EN 1276, BS:EN 14476:2013 + A2:2019