SoChlor Technology Explained
Learn how SoChlor technology is one of the most effective and versatile antimicrobials for human health on the market today.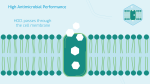 Versatile and easy to use, fast dissolving tablets deliver highly effective/unrivalled chlorine disinfection and decontamination for a wide variety of uses and settings
Used across all sectors
In settings as diverse as healthcare to catering, agriculture to domestic settings, SoChlor TAB chlorine release tablets deliver the correct and exact strength chlorine solutions to ensure infection control and optimum hygiene by rapidly killing micro-organisms.
With a range of Tablet and Pack sizes, whether you are sterilising baby equipment, disinfecting food preparation surfaces or decontaminating instruments, flexibility really is the key with SoChlor TAB. More convenient than liquid bleach, fast-dissolving SoChlor TAB chlorine release tablets are non-spill and more stable. They are lighter to transport and easier to store, and can be diluted to suit the disinfection levels needed.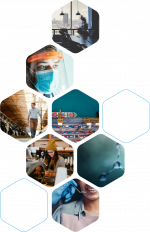 Fully effective against pathogens and other infections agents, including Coronavirus/COVID-19, and approved to EN14476, a solution made with SoChlor TAB gives users the flexibility to control the concentration of chlorine to suit their requirements. The tablet formulation means there is no measuring needed, reducing inconsistent dilution levels and improving the experience of both the user and those around.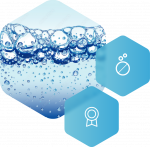 Leading Purity and Quality
Conforms to the UK Department of Health, Health Protection Agency and World Health Organisation guidelines for use on organic matter such as blood and other body fluids. And whilst chlorine tablets are used around the world, SoChlor TAB has a specific quality and purity that is rarely matched, making the brand the optimal choice for a wide range of applications.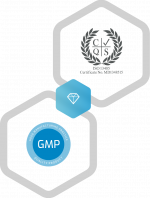 SoChlor TAB soluble chlorine disinfectant tablets hold the NHS Supply Chain contract for infection prevention and control, surface disinfection, spill management including blood and other bodily fluids, instruments and containers, and general environmental disinfection of wards, clinics, theatres, laboratories and public areas.
SoChlor TAB ensures that best practice is adhered too, no matter the experience of the user. The simple to use tablets reduce potential error in dilution levels. Educational materials support different learning methods so that, even in settings with high staff turnover or casual labour, necessary standards can be reached.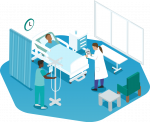 With SoChlor TAB, it is simple to make a solution to suit the task in hand, varying the concentration as needed. Following the guidance, it is possible to use SoChlor TAB in a range of different ways simply by diluting to the strength that is needed, from salad washing in a catering unit to spill disinfection in a clinical environment.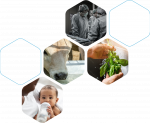 Applications
Midwifery and home births
Environmental & surface disinfection
Stainless steel instruments
Not just suitable for healthcare settings, SoChlor TAB is effective for disinfection and sanitisation of fresh produce for the catering, hotel, street vendor, food processing and consumer sectors.
SoChlor TAB reduces the number of pathogens on fresh fruit and vegetables to safe levels and prolongs the shelf life of produce.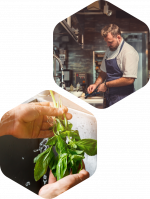 Deliver the correct and exact strength required for routine decontamination of surfaces as well as disinfection following biohazard spills.
Rapidly killing micro-organisms, SoChlor TAB is used in dental surgeries, waiting rooms, laboratories and research and testing facilities, and is approved by leading instrument and endoscope makers Karl Storz, Olympus and Honer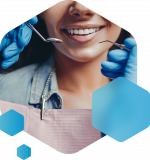 Veterinary and Agriculture
Provides complete disinfection for the farm and animal environment. Whether used for drinking water or for terminal or routine disinfection programmes, SoChlor TAB ensures optimal hygiene conditions by rapidly killing micro-organisms.
The active ingredient, Troclosene Sodium provides power resistance against water-borne pathogens, including those which cause major problems especially in poultry leading to slow growth, poor performance, sickness and sometimes death.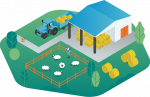 Safe and effective to use in a domestic setting for the disinfection and decontamination of kitchens, bathrooms, mops, buckets, dishcloths, food preparation and even some of the food itself.
With a long shelf life and variety of dilution strengths, SoChlor TAB provides a cost-effective way of reducing the risk from pathogens and other infectious agents.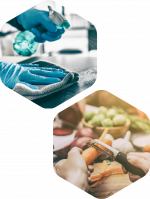 SoChlor TAB can sterilise baby's feeding equipment in just 30 minutes, killing bacteria, viruses, fungi and spores quickly and safely. This proven technology has been used in hospitals for years.
SoChlor TAB can be used for all baby feeding equipment, including feeding utensils, bottles and teats, as well as teething rings, dummies and even toys.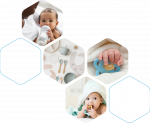 Disinfection is an important part of a wider infection prevention and sanitation strategy, as various microorganisms can be dangerous to immune-compromised and other vulnerable populations.
SoChlor TAB has a water-soluble formulation with wide microbiological activity which acts fast to sanitise water in areas where clean drinking water is needed for rehydration.