Infection Control, Patient & Care Worker Safety
Care and nursing homes have a vital role to play in the response to the COVID19 pandemic. As one of the key suppliers to the NHS for infection control GV Health have created this resource page to support care and nursing homes with links to key sources of advice and guidance and procurement information about infection control products.
ISOLATION MEASURES
All residents being discharged from hospital or interim care facilities to care homes and new residents admitted from the community should be isolated for 14 days within their own room. This should be the case unless they have already undergone isolation for a 14-day period in another setting, and even then the care home may wish to isolate new residents for a further 14 days.
TESTING
Testing has expanded in the care sector to include both symptomatic and asymptomatic care home staff and residents. The care home portal allows care home managers to request tests for all staff and residents – known as 'whole home testing'.
ACCESSING URGENT SUPPLIES
Any care and nursing home organisation that is running critically short of PPE and has exhausted other supply routes, can phone the National Supply Distribution Response (NSDR) on 0800 915 9964 to request an urgent delivery.
RESPECT FORMS
Many homes are experiencing difficulties filling in respect forms and for those who use the Rockwood scale it is worth considering utilising this at the earliest possible moment. Here is a link to the Pier Health website (a leading super partnership) which have a video on Rockwood which might be useful: https://youtu.be/p8tF7mVSY08
IF AN OUTBREAK OCCURS
Please inform the local HPT at PHE of a single possible or confirmed case within the care home. Follow the outbreak control measures advised by the HPT. Follow the guidance on use of personal protective equipment (PPE) in care homes.
GENERAL GUIDANCE
CONTACT US
For stock availability please visit our contacts page to find your nearest disctributor.
OUR TEAM ARE HERE TO HELP YOU
During this difficult time it is understandable that members of all of our teams are anxious. We are in touch with a wide range of clinical professionals across the country and are happy to network any questions that might make your life easy and reduce anxiety for you and your teams. Please contact us with your questions by emailing us at info@gvhealth.com. We will be collecting frequently asked questions and posting answers here.
Infection Control: Keeping Surfaces Safe
DISINFECTANTS: SOCHLOR DST
Sochlor DST is one of only three DoH recommended cleaning agents. SoChlor DST can be used on all surfaces, providing crucial Dual Action "Clean & Disinfect" to decontaminate large areas. SoChlor DST's dual-action clean and disinfect provides the highest efficacy for surface and general environmental cleaning. By providing a dual-action solution cleaning time is reduced and user errors are minimised to ensure the best level of environmental disinfection and decontamination.
Dual-action "Clean & Disinfect": no pre-clean required
NaDCC recommended by CDC, WHO & UK Department of Health for effective disinfection of Coronavirus
EN 14476 certified
Fully effective against coronavirus COVID-19
USEFUL LINKS
Managing Care & Nursing Home Waste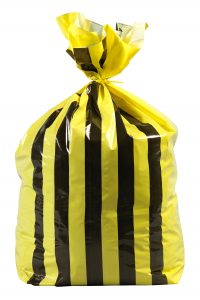 TIGER STRIPE OFFENSIVE WASTE BAGS
Double bag all COVID-19 patient related waste in offensive Tiger bags and store in a secure area away from other waste for at least 72 hours. After this period the waste can be disposed of in the usual domestic waste stream. Any other infectious waste should be segregated in line with the standard operating procedure [see link below].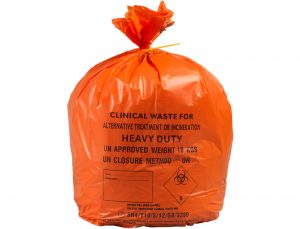 ORANGE WASTE BAGS
Orange Bags – COVID-19 is classified under UN3291, Category B waste. As such the packaging specification comprises the following:
All infectious waste other than PPE and COVID-19 should be disposed of in orange waste bags for Care Homes
These should be certified for bulk transport if they are not being transported in a clinical waste cart
Sacks must be sealed with a bag or cable tie or tape, marked so that they are traceable back to source and placed in a 360 or 770ltr UN3291 certified bin
Sacks containing infectious COVID-19 waste may be placed in the same clinical waste cart as other infectious orange bagged waste
USEFUL LINKS
Care worker safety: Aprons & Gowns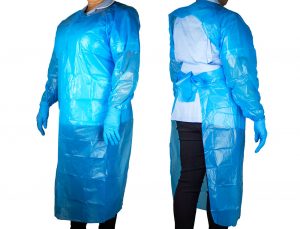 SINGLE USE GOWNS
Polycare Gowns are a single-use, impervious, polyethylene (PE) gown featuring an over-the-head-style design for excellent protection against liquids and fluid exposure. They are resistant to wet bacteria, contaminated solid particle and liquid penetration and suited for use in care homes as an alternative to our single use aprons and can be used for protection with individuals in isolation and COVID -19 outbreaks.
The design ensures that the gown remains securely in place while in use thanks to thumb loops that keep sleeves from sliding up. One size fits all gowns come individually folded and wrapped in a dispenser box. Thumb loop style wrists keep sleeves from sliding up when putting on gloves. Apron-style neck enables gown to be taken on and off quickly. Ideal for the healthcare sector including care homes, home care, hospices, hospital, ambulance and medical environments. Also appropriate for use in childcare, schools, general cleaning and more.
APRONS: POLYCARE CE
Polycare CE certified disposable aprons are appropriate for all situations except close patient contact where appropriate PPE is required. Aprons protect wearers from direct contact with solids and liquids during medical procedures and routine cleaning tasks. Our range comes in Clear, White, Blue, Green, Red, Pink and Purple and are appropriate for use in all healthcare settings..
Available in a variety of lengths, material weights, colours and sizes
Unisex aprons adjust to fit all shapes and builds
Supplied on rolls or flat pack
For use in all departments and medical specialisations including infection control in care homes
USEFUL LINKS
Personal Protective Equipment (PPE)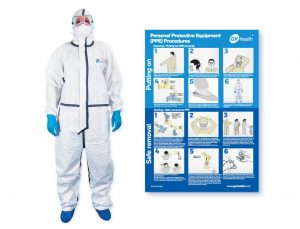 Wearing appropriate Personal Protective Equipment (PPE) when dealing with patients or carrying out environmental decontamination is paramount for successful infection control. In the current COVID-19 emergency, once you are in receipt of PPE you should be using it routinely and, although it is difficult in care home environments, it is strongly recommended that social distancing rules apply within the home.
All PPE packs we supply include clear instructions to aid correct donning and doffing by users with minimal training, and are suitable for use by care and nursing homes. We know it is in short supply. If your normal channels are not currently able to supply your needs we will do our best to support you.
USEFUL LINKS
Disclaimer: The information and links on this page are provided for guidance only. Always refer back to NHS guidelines which are updated on a regular basis before reaching decisions or taking action. The information and links on this page have been carefully checked and are believed to be accurate to the best of our knowledge. However, GV Health Ltd., its employees and contractors cannot be held liable for any inaccuracies whatsoever that may exist for whatever reason.