Food, Retail and other High Risk Environments
This guidance is intended for all non-healthcare and public health environments where there is a need for additional precautions to prevent the spread of COVID-19. These can include any business serving the general public including food retailing, bars and restaurants, shops and shopping malls, transport providers, offices etc. The guidance is appropriate for management and staff as well as cleaning contractors and facilities managers.
4 KEY CONSIDERATIONS
Although there is no one blanket approach that works for all areas, what we have learnt and do know is that there are essentially 4 key considerations when looking at how to make an area as safe as possible – for staff, for public and for customers:
SURFACES

PERSONAL HYGIENE

SPACING AND SOCIAL DISTANCING

PPE REQUIREMENT
Outside of healthcare the first three of these: Surfaces, Personal Hygiene and Spacing/Social Distancing need to be considered first as this then generally helps informs PPE requirement. If we keep working back to these 4 key principles then they can be adapted to the challenges faced at each site which will all vary.
1. Surfaces
Keep surfaces safe with effective infection control processes.
Identifying areas which have high contact
Establishing a deep clean plan and how frequently these are carried out
Staff and public remaining alert of surfaces people are coming into contact with
Deep Clean: Cleaners should use disposable cloths, mopheads, aprons, gloves and masks during each clean using SoChlor DST – a Department of Health recommended disinfectant to tackle COVID-19.
DISINFECTANTS: SOCHLOR DST
Sochlor DST is one of only three DoH recommended cleaning agents. SoChlor DST can be used on all surfaces, providing crucial Dual Action "Clean & Disinfect" to decontaminate large areas. SoChlor DST's dual-action clean and disinfect provides the highest efficacy for surface and general environmental cleaning. By providing a dual-action solution cleaning time is reduced and user errors are minimised to ensure the best level of environmental disinfection and decontamination.
Dual-action "Clean & Disinfect": no pre-clean required
NaDCC recommended by CDC, WHO & UK Department of Health for effective disinfection of Coronavirus
EN 14476 certified
Fully effective against coronavirus COVID-19
2. Personal Hygiene
Maintaining personal hygiene is key to contain the spread of infection.
Access to hand washing (routes to and from that – eg toilet doors)
Access to hand sanitiser
Staff and public remaining alert not to touch face
We recommend following the governments 20 second hand washing guidelines and using our 70% IPA wipes for hand sanitising and disposing of tissues after use.
SURFACE AND HAND SANITIZER WIPES:
GV Health alcohol wipes with 70% Isopropanol (IPA) for hand sanitizing and disinfection of surfaces, medical and other general devices. These individually wrapped multipurpose wipes are impregnated with 70% isopropyl alcohol (also known as IPA, isopropanol or Propan-2-ol) and 30% de-ionised Water. Designed for a variety of surfaces and equipment including desks, plastic toys, keyboards and computer screens, as well as for hand sanitizing.
3. Spacing and social distancing
"USING THE SPACE"
We have seen in education this message of making "greater use of the school". This applies in many environments – it is thinking about how to make use of the building or area to ensure distancing.
The flow of footfall; single flow where spaces or walkways are narrow
The use of different entrances for incoming and outgoing
Screens / physical barriers at places where interactions occur such as checkouts or kiosks
Floor markers to demonstrate 1 to 2 metres distance between people in queues
Staff and public remaining aware of spacing
4. PPE Requirement
Generally once organisations have evaluated these first 3 pillars this informs the level of PPE required, particularly by identifying the areas where distancing is difficult.
There is a multitude of different levels of PPE
As you move down the PPE spectrum the objectives shift from creating a complete barrier to protect the user and by extension, others; TO limiting the spread of droplets eg the face coverings and the very basic end
Although more PPE might sound better, the more complex the PPE, the harder it is to put on (donning) and take off (doffing). Moreover, this increases risk of errors, which in turn can greatly increase overall risk of self-contamination, as we saw during the Ebola crisis
Also, higher grade PPE such as masks with filtration (FFP3 / N95 / KN95) can only be worn for a limited time – it is generally not realistic or practical for hours on end. And again, studies have shown the net benefit is often offset by increasing the risk of errors.
APRONS: POLYCARE CE
Polycare CE certified disposable aprons are appropriate for all situations except close patient contact where appropriate PPE is required. Aprons protect wearers from direct contact with solids and liquids during medical procedures and routine cleaning tasks. Our range comes in Clear, White, Blue, Green, Red, Pink and Purple and are appropriate for use in all healthcare settings..
Available in a variety of lengths, material weights, colours and sizes
Unisex aprons adjust to fit all shapes and builds
Supplied on rolls or flat pack
For use in all departments and medical specialisations including infection control in care homes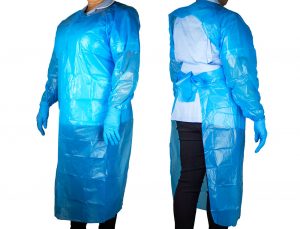 SINGLE USE GOWNS
Polycare Gowns are a single-use, impervious, polyethylene (PE) gown featuring an over-the-head-style design for excellent protection against liquids and fluid exposure. They are resistant to wet bacteria, contaminated solid particle and liquid penetration and suited for use in care homes as an alternative to our single use aprons and can be used for protection with individuals in isolation and COVID -19 outbreaks.
The design ensures that the gown remains securely in place while in use thanks to thumb loops that keep sleeves from sliding up. One size fits all gowns come individually folded and wrapped in a dispenser box. Thumb loop style wrists keep sleeves from sliding up when putting on gloves. Apron-style neck enables gown to be taken on and off quickly. Ideal for the healthcare sector including care homes, home care, hospices, hospital, ambulance and medical environments. Also appropriate for use in childcare, schools, general cleaning and more.
SPILL KITS
Use Spill Kits for the cleaning of blood and body fluid spillages such as vomit and urine to contain spillages and reduce the risk of infection. All spillages of blood, faeces, saliva, vomit, nasal and eye discharges should be cleaned up immediately whilst wearing PPE. Never use mops or cloths for cleaning up blood and body fluid spillages.
COMMUNICATION
Once you have established the approach for these 4 key pillars it is critical that effective communication is implemented by means of:
the use of appropriate signage
staff training
clear and concise instructions for the customers and the general public
It is critical that staff must understand the objective and reason for each measure and how they must implement measures effectively and ensure they continue to do so on all 4 pillars. Training for employees on PPE for donning, fitting and doffing is critical. As mentioned, user error in this aspect is often very high.
Signage provides evidence to customers that the establishment they are entering is implementing high standards and has the customers interest at heart.
Have a run through from both the point of view of the customer and the member of staff. Test out your system, does it work? If you were a customer would you feel safe? As an employee do you feel safe?
USEFUL LINKS
Foodbuy Futures – The Consumer Confidence Edition
Our Guide to infection control for COVID-19
COVID-19 Cleaning in Non-Healthcare Settings
COVID-19 Personal Protective Equipment (PPE)
Putting on PPE (Donning) Illustrated Guide
Removal of PPE (Doffing) Illustrated Guide
CONTACT US
Our team are here to help you. Please contact us for further guidance and support on infection control for COVID-19, product enquiries and stock availability.
Disclaimer: The information and links on this page are provided for guidance only. Always refer back to government guidelines which are updated on a regular basis before reaching decisions or taking action. The information and links on this page have been carefully checked and are believed to be accurate to the best of our knowledge. However, GV Health Ltd., its employees and contractors cannot be held liable for any inaccuracies whatsoever that may exist for whatever reason.