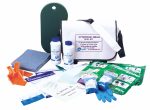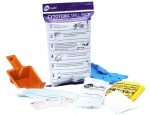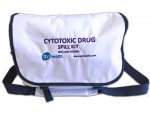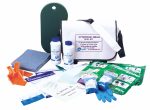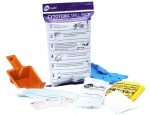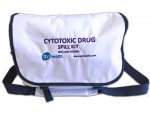 Product Overview
This spill kit is curated to manage spills of a cytotoxic nature, including chemotherapeutic, cytotoxic and cytostatic drugs. Kitted with the necessary products to manage both liquid and powder spills, this kit is an ideal to be used in hospitals, laboratories, pharmacies and other areas where cytotoxic substances are handled.
Sterile water pods and absorbent pads are included for the safe containment of powder spills, and specially formulated Cyto absorbent granules absorb any liquid spills more effectively than regular absorbent granules. The addition of our Cytali powder neutralises any cytotoxic residue around the spill site and its surrounding area, ensuring a safe, decontaminated surface.
Our cytotoxic spill kits contain grip-seal bags to safely contain any waste for disposal, as well as full PPE kits to minimise direct contact with spills. Stored in a large satchel, all products are in one central, accessible location. A clear instruction sheet is provided within the kit, making it suitable for use by both specialist and non-specialist staff.
Use biocides safely. Always read the label and product information before use.
Contents
This Cytotoxic spill kit contains:
PPE packs x2 each containing

3 x pairs of disposable gloves*
3 x thumb loop gown
3 x FFP3 mask
3 x eye visor
3 x pairs of over sleeves
3 x pairs overshoes
1 x kneeling pad

Liquid Clean up

3 x Cyto Granules 50g sachet
3 x scoop scraper
1 x tweezers

Powder Clean up

3 x sterile water pods
3 x absorbent pads

Decontamination

3 x Cytali Powder 10g sachet
1 x 250ml diluter
Paper towels

Waste disposal

1 x instruction sheet
3 x Cytotoxic waste bag
3 x bag tie
1 warning sign
1 record card
Certifications
Conforms to UK Department of Health and WHO guidelines for safe clean up of cytotoxic spills.
Active ingredient: Disodium Metasilicate
* ASTM D6978-05: Standard Practice for Assessment of Resistance of Medical Gloves to Permeation by Chemotherapy Drugs
Cytotoxic Spill Kit
Product code:
MJZ000
Product Specifications:
Total Qty: 1 kit
Complete multi-spill kit
Effective for use on cytotoxic chemicals
Neutralising powder to decontaminate surfaces
Suitable for powder and liquid spills
Certifications
Conforms to UK Department of Health and WHO guidelines for safe clean up of cytotoxic spills.
Active ingredient: Disodium Metasilicate
* ASTM D6978-05: Standard Practice for Assessment of Resistance of Medical Gloves to Permeation by Chemotherapy Drugs