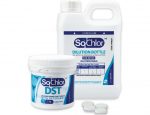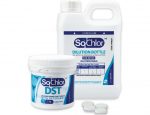 Product Overview
An essential in infection prevention and control (IPC) across sectors, SoChlor (Sodium dichloroisocyanurate, NaDCC) is a smart, sustainable precursor to hypochlorous acid – a chlorine-based, safe and powerful solution to disinfection. Combined with a compatible detergent – have the ability to clear and disinfect in one simple step. SoChlor DST works to remove light surface loads, followed with disinfecting action, to sanitise and disinfect surfaces quickly. SoChlor DST tablets dissolve to formulate the correct concentration of solution, every time* – eliminating guess work and reducing user error – resulting in hassle-free cleaning and disinfection while eliminating product waste.
SoChlor's biomimetic technology emulates the same response as certain white blood cells in the body, where a non-toxic, biodegradable compound hypochlorous acid is released on exposure to pathogens. Activated upon dissolving in water, NaDCC also releases hypochlorous acid – the safe, smart active in SoChlor. Holding a much higher level of available chlorine, hypochlorous acid is approximately 100x more effective than household bleach, meaning SoChlor's anti-microbial performance is efficacious against more resistant pathogens including mycobacteria, spore-forming bacteria and non-enveloped viruses. SoChlor is therefore suitable for high-level and outbreak disinfection, such as against SARS-CoV-
SoChlor DST pairs SoChlor's high anti-microbial action with a compatible detergent, DST transforms the cleaning, rinsing and disinfecting process into one quick step. Its stable, tablet formula and small composition makes for easy transportation. With higher quantities per delivery due to reduced packaging, SoChlor DST tablets are a more sustainable option for cleaning and infection control.
SoChlor DST tablets conform to UK Department of Health, HPA and WHO guidelines for isolation, terminal and general environmental cleaning and disinfection. They are also tested and certified against EN test standards: BS:EN1650; BS:EN13704; BS:EN1276; BS:EN14476 (Adenovirus); BS:EN14476 (Poliovirus); BS:EN14476 (Norovirus); BS:EN14348; BS:EN13624; BS:EN13727; BS:EN13697, EN 16615, EN17126. Effective against Fungal, Bacterial & Sporicidal Activity.
*when used according to directions.
Use biocides safely. Always read the label and product information before use.
Certifications
Certified to the following test standards: BS:EN 1650, BS:EN 13704, BS:EN 1276, BS:EN 13727, BS:EN 14476, BS:EN 14348, BS:EN 13624, BS:EN 13697, BS:EN 16615, BS:EN 17126
Active ingredient: Sodium dichloroisocyanurate (NaDCC)
SoChlor DST 1.7g 100
Product code:
MFB256
Product Specifications:
Total Qty: Case of 6 tubs (100 tablets per tub)
Clean and disinfect in one consolidated product
Effective against a range of pathogens and infectious agents
Compact and stable tablets for ease of transportation and storage
Application in both healthcare and non-healthcare settings.
Biodegradable naturally occurring active with compatible detergent
Certifications
Certified to the following test standards: BS:EN 1650, BS:EN 13704, BS:EN 1276, BS:EN 13727, BS:EN 14476, BS:EN 14348, BS:EN 13624, BS:EN 13697, BS:EN 16615, BS:EN 17126
Active ingredient: Sodium dichloroisocyanurate (NaDCC)